£7.99
Cover price £7.99

€10
Europe and Republic of Ireland
$12
US and Worldwide
Story Lavie Tidhar
Art Paul McCaffrey

Jimmy can't stop the words. He can't make them behave.
Words have power.
They have power over Jimmy.
And because of them, he gets bullied at school.
Jimmy has Tourette's Syndrome.
But he wants to be an astronaut when he grows up.
Jimmy wants to go to the moon.

Going to the Moon is the the funny, profane, and ultimately heart-breaking adult picture book of a boy with Tourette's Syndrome who wants to become an astronaut when he grows up. It is a story about bullying, about friendship, and ultimately about dreams.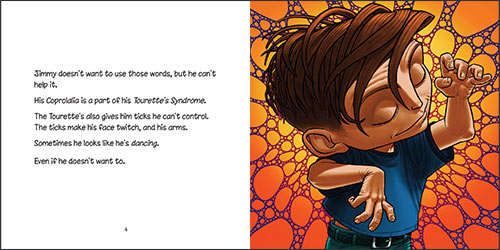 "A brilliant interaction between art and words."
Paul Cornell

"It moved me. It will move you, too."
Paul Weimer

"It is ultimately a triumphant book."
Jared, Pornokitsch

"The essence of this book is that the words are in the art and the art is in the words; together they are more powerful than any other method I have seen before to both educate a reader and provoke an emotional response at the same time."
Elloise Hopkins

"A tender, touching, merciless and heartbreaking book that does an awful lot to your emotions over its 38 exquisitely-rendered pages it's not just something to be admired by grown-up comics fans; it's something that should be given to kids and those touched by Tourette's, and held tight for its wisdom and clear-headed sentiment Paul McCaffrey's art is beyond superlatives; he meshes seamlessly with Tidhar's words to remind us all what it is to be young and powerless and at the mercy of others, but that at the end, there's always hope. A triumph."
Comic Heroes